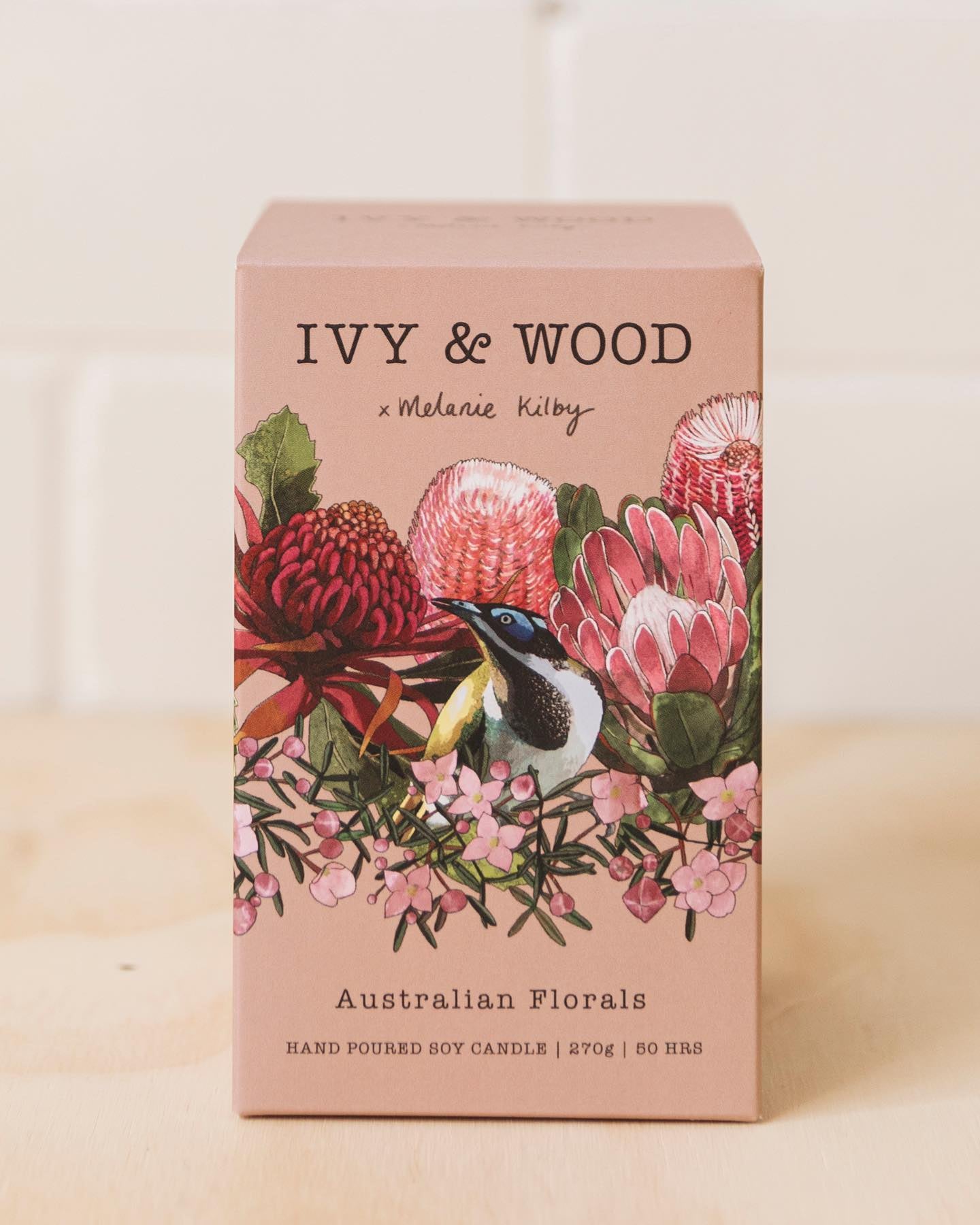 Australiana: Australian Florals Scented Candle
This fragrance is a blend of beautiful Australian floral scents, Frangipani, Banksia and Boronia with sweet Rose and honey top notes. It also includes hints of cyclamen, star jasmine and an herbal orchid, green finish.
Key notes: Frangipani | Banksia | Boronia | Sweet Rose | Honey
The Australiana Collection celebrates our stunning, unique native flora and fauna and features illustrations by talented local Brisbane artist, Melanie Kilby. 
Comes packaged in a beautiful box, perfect for gifting! Our packaging is designed and printed in Brisbane and is fully recyclable.
Burn time: Over 45 hours
About Ivy & Wood Candles
Ivy & Wood candles are hand poured using natural coconut soy wax and cotton wicks.
We use high quality fragrance oils in a wide variety of delicious scents.
The handy lid prevents dust collecting in the wax when not in use. Once your candle is finished you can simply wash out with hot soapy water and reuse the jar. 
Candle Care & Safety
Always trim your wick to 5mm before lighting your candle (yes - every time) 
Burn for long enough that the melted wax pool reaches all the way to the edge (1-2 hours) 
Do not burn for more than four hours at a time 
Keep candle free of foreign materials including matches and wick trimmings 
Never burn on or near anything that could catch fire 
Never burn while unattended 
Keep out of reach of children and pets
Specifications
250g net (520g packaged). Packaged dimensions: 8cm W x 8cm D x 11.5cm H.