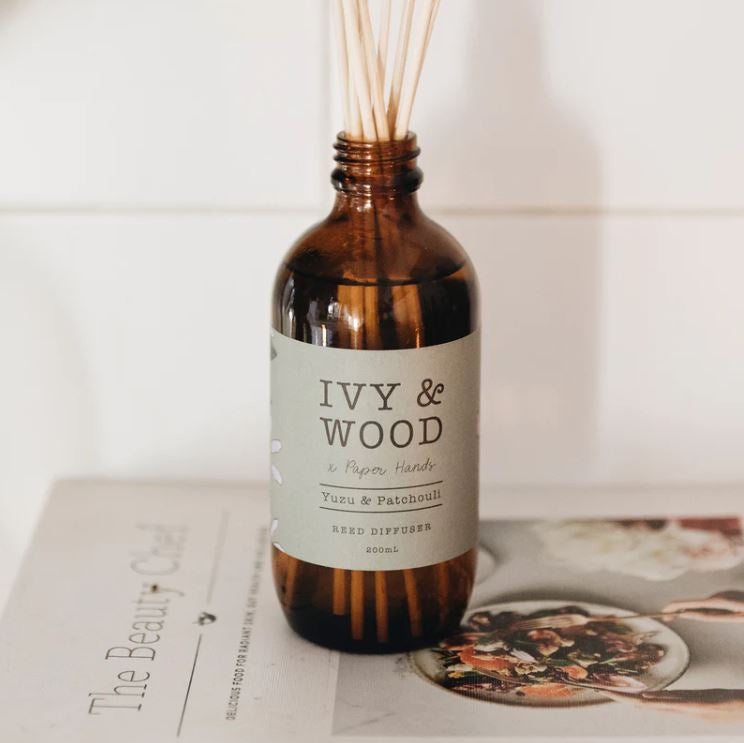 Botanical: Yuzu & Patchouli Reed Diffuser
Citrus top notes of Bergamot and Yuzu are complemented by the heady aroma of Patchouli, rounded out by White Gardenia, Jasmine and Vetiver.
Key notes: Bergamot | Yuzu | Gardenia | Jasmine | Patchouli
The Botanical Collection is inspired by the beauty of nature and features fine line watercolour artwork by talented local Brisbane artist, Holly Neilson of Paper Hands. 
Comes packaged in a beautiful box with rattan reeds, perfect for gifting! 
About Ivy & Wood reed diffusers
Ivy & Wood reed diffusers provide the same gorgeous scents as your favourite Ivy & Wood candles without the flame. These amber glass beauties will scent your room 24 hours a day and last for 6-12 months so they are great value for money.
Slow releasing and long lasting, our reed diffusers are made with carefully blended high quality fragrance oils and pure essential oils in a wide variety of delicious scents. 
Instructions for use
Simply remove the screw top and place your reeds inside the jar. Position on a flat surface out of reach of children or pets and away from a risk of being knocked over.
Turn your reeds around weekly for an extra burst of fragrance (being careful not to spill on your furniture) or use less reeds for a more subtle room fragrance.
Outside Australia? Sorry, reed diffusers cannot be sent internationally. We recommend trying one of our best selling soy candles instead. 
Specifications
Volume: 200ml 
Packaged weight: 410g
Bottle dimensions: 140mm H x 51mm D 
Usage: 6-12 months